What to get for a dad who has everything? If that's a question you've been asking yourself this year as another Father's Day approaches on June 20, welcome to the club. In a search for an answer, we've arrived at some possibilities for gifts that even fathers 'who have everything" won't likely already own.
Chocolate Truffles
Where better to begin than with chocolate? We know what you're probably thinking: Candy is a gift for moms. But what if there were a line of, say, chocolate truffles with a masculine edge — candy designed for the man for whom relaxation translates to a good cigar and glass of single-malt Scotch at the end of a long day?
Now there is. It's put out by Delysia Chocolatier and even has a distinctly manly name: The Gentleman's Collection. These dark chocolate truffles are the perfect embodiment of what rich, robust cocoa should be — clean, simple, and flavorful. But it's the fillings that set them apart from any other truffles on the market.
The 9-piece truffle assortment contains:
Three Scotch truffles (yes, you read that right). A rich 64% bittersweet chocolate base and 12-year old Scotch are combined to elevate the truffles to a whole new level of excellence.
A bolder 71% bittersweet chocolate balances out the cigar infused filling of the Cigar truffle. The unexpected ingredients give these award-winning Cigar truffles a subtle, smoky flavor with a slight tingling finish.
The Gentleman's Collection sells for $25.95 and may be purchased here.
Japanese Steel
In a memorable scene from "Kill Bill," Samurai sword maker Hattori Hanzo remarks on the sharpness of his blades, "I can tell you with no ego. If on your journey, you should encounter God, God will be cut."
If you'd like to give Dad the gift of Japanese steel for his special day, consider a kitchen knife or collection from Syosaku, which has been forging knives since the Samurai era.
All of Syosaku's knives are hand-forged by master artisans in the port city of Sakai. The 8.3-inch chef's knife (shown below) is forged from premium molybdenum stainless steel and sells for $89.99.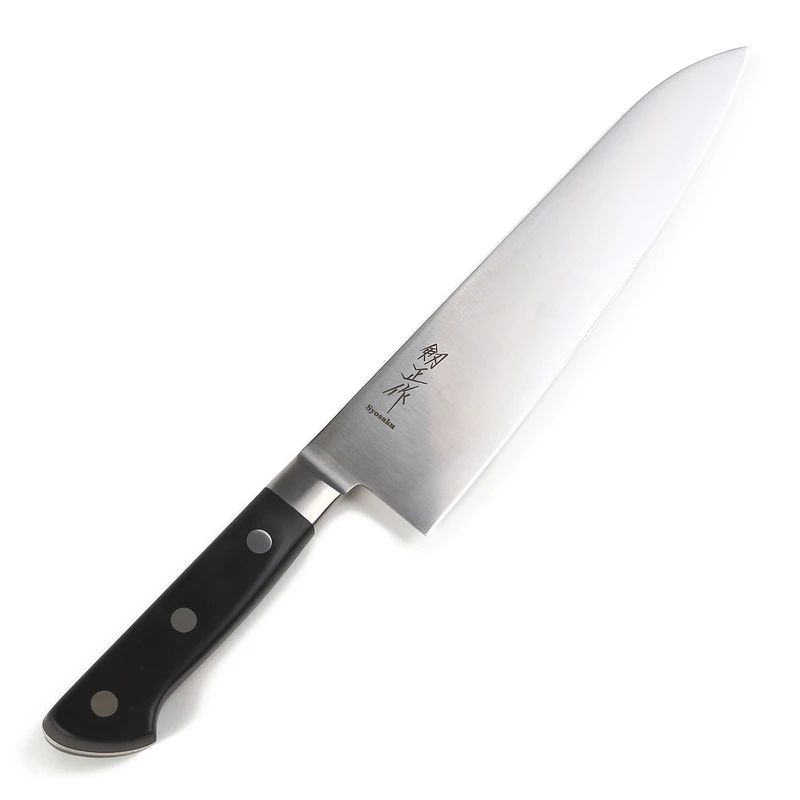 There's the Beef!
If your dad would rather have the steak than an implement needed for carving it, you'll want to consider Butcher by Hyun. This newly initiated wagyu beef delivery service is a spin-off of Hyun (reviewed here), the high-end Korean barbecue omakase restaurant in NoMad that spotlights the highest quality Japanese A5 Wagyu Virgin Heifers flown in as whole from Japan and butchered daily on the premises.
Butcher by Hyun is available for local delivery through third party sites such as Uber Eats and and Grubhub. Packages for 2-3 people or for 4-5 people and include three cuts of meat each with Jomiryo (wine salt, truffle salt, and ssamjang), and the option to add Chateau Musar Rouge 1997 as a wine pairing.
Customers can also request their favorite cuts, with the option to add a ssam kit (prepacked sides) including a choice of Ssam (romaine lettuce and Korean chili pepper), Sangchu-muchim (romaine lettuce with vinaigrette), or a combo (which includes all ssam kit options). All local deliveries have the option to add a wine pairing.
Options begin at $47 for top sirloin butt, but rest assured: This will be the most tender steak dad ever ate.
'Shirt' Cake
Tired of getting Dad a shirt or tie every Father's Day? We'll let you in on a little secret: So, probably, is he.
This year give him a shirt, but make it one he can eat.
We Take the Cake designs cakes for all occasions, including one for Father's Day that looks like a polo shirt. The cake is a combination of our two WTC's most popular flavors — chocolate and golden butter cake — and is layered with rich chocolate cream cheese and frosted with blue buttercream.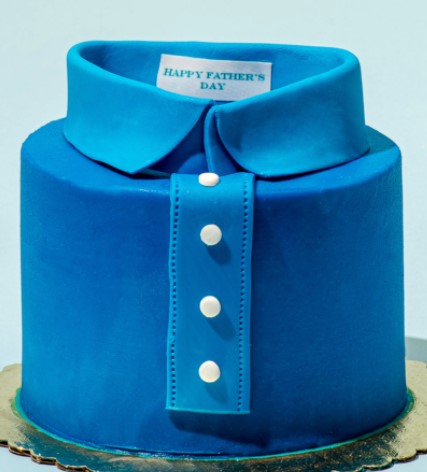 The whimsical confection can be ordered from Goldbelly. The price is $89. Shipping is free.