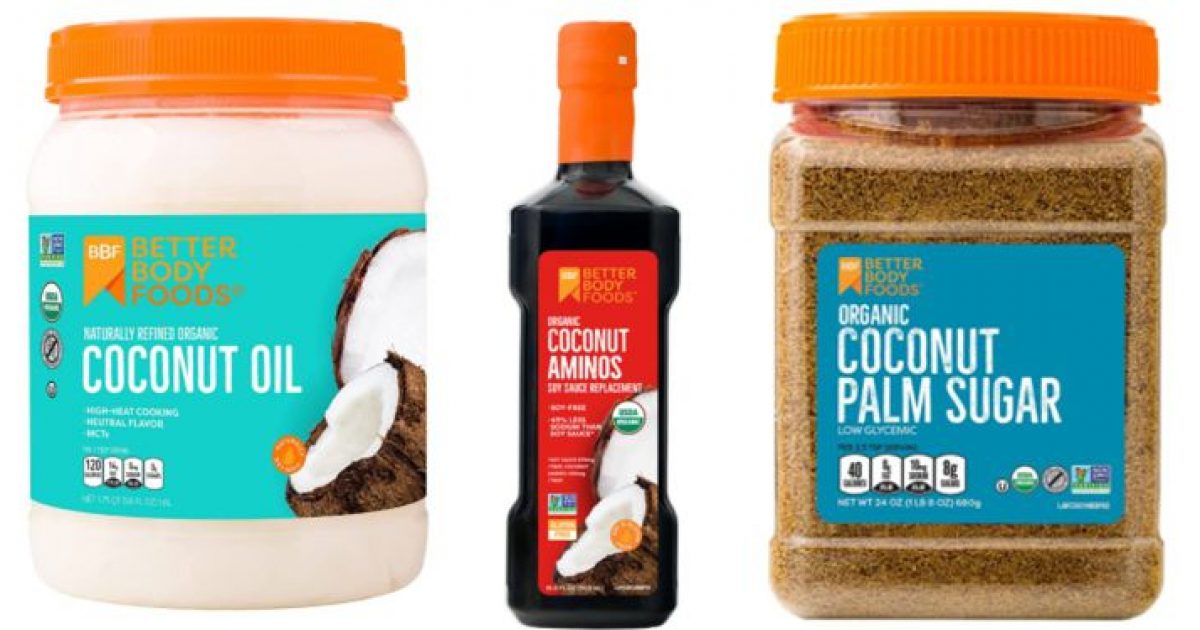 As the trend toward plant-based substitutions for animal proteins proceeds apace, the line of taste-alike products has evolved into a burgeoning industry.
In March 2020, we wrote about PBFit, a powder that provides a third the calories of traditional peanut butter and 87% less fat. Our tasting panel adjudged it be a ringer for the real thing.
Now we are here to tell you about three more products from the company that gave us PBFit. Its name is BetterBody Foods, and the commonality among the three products sampled is that all are derived from coconut. Herewith our findings.
Coconut Palm Sugar
BetterBody Foods's Organic Coconut Palm Sugar is advertised as low on the glycemic index, which assigns a number to carbohydrate-containing foods according to how much they increase blood sugar. The product rates a 54 on the scale, which is nine lower than table sugar.
Flavorwise, the palm sugar is somewhere between regular white sugar and brown sugar. Our tasting panel loved the palm sugar sprinkled on hot oatmeal. It worked identically to table sugar in baking.
Naturally Refined Coconut Oil
If you're in the market for a flavorless fat for cooking that also boasts a high smoke point, look no further. The product is safe for high-heat cooking up to 425°F. It also contains energy-driving medium chain triglycerides (MCTs), which can help give you an energy boost.
Coconut Aminos Soy Sauce Substitute
If you're gluten-intolerant or -sensitive, you are probably accustomed to avoiding soy sauce, one of whose numbers primary ingredients is wheat. BetterBody Foods's Organic Coconut Aminos, which is made from organic coconut blossom nectar and Himalayan salt, solves that problem. In addition, it contains 45% less sodium than soy sauce.
The product scored high points among our ten tasters, only one of whom could distinguish it from soy sauce. Colorwise, Coconut Aminos is also spot-on.
Budgetary Concerns
When it comes to looking after your health or the health of your family, price should be no object. Having so stipulated, here is how the products compare in terms of cost.
The Coconut Palm Sugar is priced at $5.98 for a 1.5-pound jar, which works out to $3.99 a pound. That's a dollar more per pound than Domino pure cane sugar, which sells at Amazon for $11.94 for a 4-pound sack.
BetterBody Foods's Coconut Oil sells for $11.96 for a 56-fluid ounce jar, or 21 cents per fluid ounce. Contrast that with Amazon's offer of a 96-fluid ounce jug of Kirkland Signature canola oil for $14.40, or 12 cents per fluid ounce.
Finally, a 16.9-fluid ounce bottle of Coconut Aminos Soy Sauce Substitute goes for $18.98. That comes out to $1.12 a fluid ounce. Compare that with the 5-fluid ounce bottle of Kikkoman Lite Soy Sauce on sale at Amazon for $4.98, or $1 per fluid ounce.
When you factor in the nutritional value, we consider these to be pretty fair prices across the board.
See also…