A trip to Italy for the cost of a subway ride is a good deal. You get that and a good deal more at Tuscan Hills in Forest Hills, Queens — a small, brightly colored trattoria that might have been plucked straight out of Tuscany's verdant countryside.
Co-owners Marco Delpheschio and Roberto Lamorte (who does double duty as chef) opened Tuscan Hills almost a decade ago near Kew Gardens. Both men both grew up in Italy — Delpheschio in Abruzzo and Lamorte in Tuscany. The menu reflects the cuisine of the latter region, and many of the recipes are culled from Chef Lamorte's family collection.
Our water brings us crispy bread and tapenade as soon as we sit down, and, as we sip chicanti I'm already thanking the carb gods.
On to appetizers: Gamberi alla Toscanaccia is robust and salty, ideal for the long-awaited fall weather. The shrimp-bacon combination reflects the surf-and-turf feel of Livorno, and the white beans are hearty and filling.
The burrata off the specials menu is fresh and creamy, drizzled in olive oil and freshly cracked black pepper. A bed of of salty sliced prosciutto and spinach leaves lie beneath.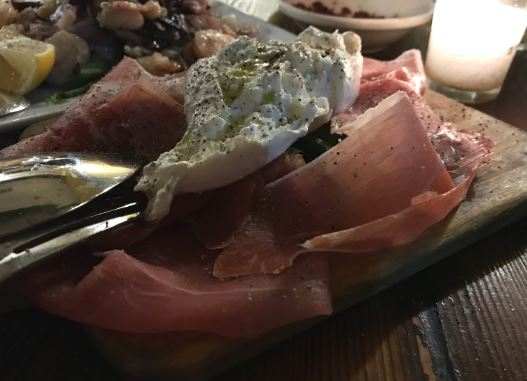 Pici alla fondelli combines handmade lengths of the fat Sienese spaghetti with slices of cherry tomatoes, olives, and — star of the show — chunks of boar. The game is full-bodied and warming, while the pasta has just the right amount of tooth to it.
When you order pizza, you are confronted with a choice of shapes — round or "grandma style." Both feature feature handsomely charred and blistered crusts that provide a textural counterpoint to the toppings, which in the case of our "Tuscan Hills" pizza (a white pie) include a creamy mix of more of that good burrata and mozzarella. The pie derives a double dose of earthiness from the slices of browned mushroom and drizzle of truffle oil that complete the dish.
Unfortunately I never had the opportunity to take an Italian class in school, but I do know the word abbiocco, which translates to "a feeling of drowsiness that follows the eating of a big meal." My dining partner and I are undoubtedly experiencing abbiocco, but turning down dessert would be a travesty.
Slices of mango and passion fruit sorbet are combined into a ball and covered with white chocolate, then returned to the deep freeze. The confection that eventually emerges, known as bomba esotica, is served to you in slices, which make it ideal for noncombative sharing. Although it's chilly outside and the abbiocco is seriously setting in, we manage to dispatch the entire thing because it's a relatively light ending (and white chocolate is our vice.)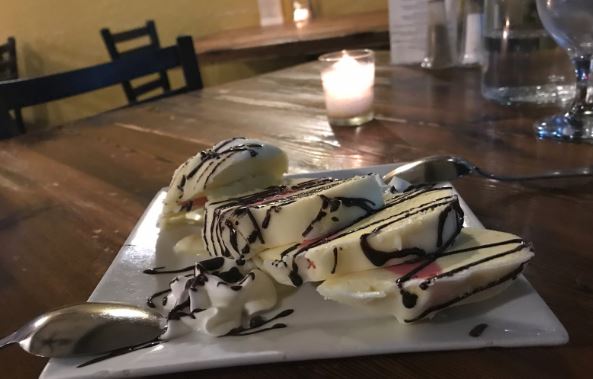 Tuscan Hills is located two blocks from the 75th Street station, served by the E and F line. Street parking is scarce, but there are several nearby lots.
Price range: $8.50 to $16 for starters, $10 to $26.50 for main courses, and $4.50 to $8.50 for dessert.
Tuscan Hills, 110-60 Queens Blvd., Queens, 718-487-4500. Open daily for lunch and dinner, all major credit cards accepted.