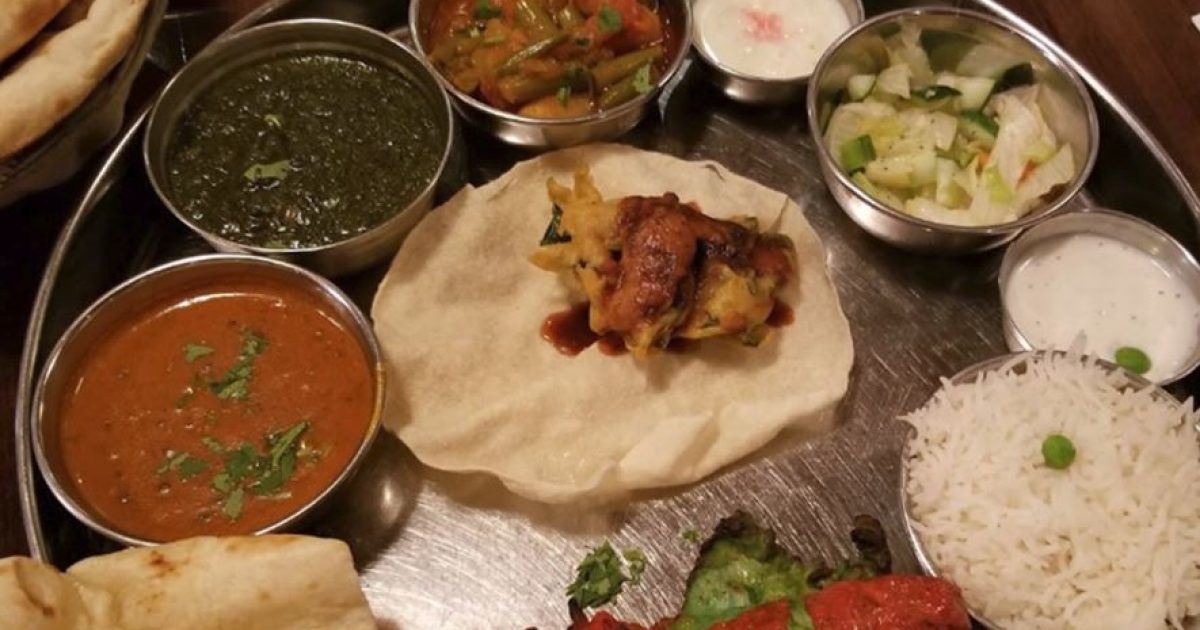 "Pippali, also known as Indian long pepper, is a flowering vine cultivated for its fruit, which is dried and used as a spice and seasoning. It is one of the primary herbs utilized in Ayurvedic preparations."
So reads the menu description of the spice from which Pippali, a restaurant in Curry Hill, takes its name. And apropos a moniker it is, as the natural health benefits associated with Ayurvedic practice are brought to mind by the exhilarating flavors on hand at Pippali.
When I moved to Manhattan some years ago, my economic circumstances necessitated taking up residence in a neighborhood where it so happened the dining alternatives were also equally easy on the pocketbook; this also fortuitously presented a rich array of restaurants to try, including the string of South Asian establishments on East 6th Street.
I was soon to discover, however, that the area along Lexington Avenue in the high 20s, within which Pippali squarely resides, offered a greater selection of cuisines from the region, as well as a more upmarket conception of these. In the years since, there has been a widening range of variations on South Asian regional cooking in the city, but the sort of "street food" served at Pippali has held its place in peoples' minds as to what the essence of Indian food is, and, having enjoyed perhaps more than my share of such food, I found Pippali to be first rate.
My companion and I were seated just beneath a display of various spices in jars — one of these containing pippali peppercorns (a stylized rendering of which forms the basis of the restaurant logo). As we nibbled on a basketful of papadom, we essayed the cocktail menu, which comprises five options. The cardamon old fashioned, made with Small batch bourbon, Scrappy's Cardamom bitters, cardamon, and orange rind was spicy, strong, and deceptively simple in presentation — the suffusion of cardamom gave it an edge that asserted itself more and more as one drained the glass.
The golden margarita was prepared with silver tequila, homemade ginger-turmeric simple syrup, fresh lime juice, and mint, and was a lightly bracing cocktail, with the ginger and turmeric giving it a body and accent. I wasn't in the mood for gin that evening, but there was an intriguing cocktail that I'll make it a point to try upon returning — the paan ki dukaan, made with gin, paan, cointreau, simple syrup, silver warq; I've never had paan, but, given the numerous vendors in the neighborhood specializing in it and its evident popularity, its stimulating qualities are doubtless something that should really enhance a mixed drink.
Faced with a menu with a plenitude of appealing choices, we threw ourselves on the mercy of our gracious host Sameer Baxi, who fashioned for us a tasting menu, with small samplings of a fair cross-section of house specialties.
Appetizers are divided on the menu into vegetarian and non vegetarian, and all of the latter we sampled were tandoori grilled meats — three varieties of chicken and two with lamb.
One sign of quality in a kitchen is the moistness of the fowl it serves, and Pippali passes this test with flying colors, with each variety we tasted being amply juicy. Chicken tikka is in the classic tandoori style, with the orange hue coming from the tandoori masala marination; with relatively light seasoning, the flavor was not overpowering, and the chicken flavor shone through.
The chicken fillets in hari mirch tikka are marinated with cilantro and green chili, and the color of these tenders — green outside, off-white inside — made them look like pieces of avocado (and indeed the creamy yet firm consistency of the flesh also recalled avocado). The most subtly seasoned of chicken appetizers was the madula, which is marinated with sweet honey and mustard before tandoori grilling.
All of the chicken dishes had a nice char-grilled finish offsetting the very moist meat within.
The two lamb appetizers were a study in contrasts. The taash kabab are spice-marinated flattened lamb chunks, wherein the marination suffuses the meat with an earthy and hearty taste. The seekh kabab is ground lamb, scented with ginger, mint, and roasted spices before being skewered and tandoori-grilled. The texture reminded me of steak tartare, and the flavor was both more gamy and subtler than the taash kabab.
Of the vegetarian appetizers, I preferred the anjeeri tikki — patties of grated beet and fig infused with fennel and garam masala before being pan-grilled: They are served with a side of Bombay bhel. The unlikely combination of the vegetable and fruit resulted in a wonderfully crunchy and chewy texture that made me think it would work as a dessert: It yielded a warm spiciness and heat at the back of the throat.
The malai paneer tikka consisted of marinated cottage cheese blocks, tandoori-grilled along with onions and bell peppers. This was the first of three preparations of such cheese that we tried, and the grilling process seemed to leave it too dry to hold the flavors of marination.
The appetizers were paired with two white wines that complemented them well. The Seeker 2015 Riesling  from the Mosel was more fruit-forward in nature, enabling it to cut through the spiciness of the appetizers in a subtly assertive way. The 2016 Sauvignon Blanc Matua from Marlborough, New Zealand reflected the increasing quality I've come to expect from New Zealand wines, and its lighter and more acidic character went especially well with the madula.
The variety of the main courses was truly impressive, perhaps none more so than the bihari nalli gosht, a lamb shank on the bone, braised over six hours with tomatoes, onions, ginger, and an 8-spice blend. The hefty chunk of meat was very tender from its long, slow cooking and left a lightly sweet, pungent, and latent spiciness on the palate.
The South Indian chettinad duck consisted of tandoori- grilled fillets seasoned with curry leaf (yes, there is an herb called curry!) and black pepper and served with tamarind rice. I can't recall ever having duck at an Indian restaurant before, but the pleasantly fatty and gamy nature of the meat nicely worked well with the spicy sauce.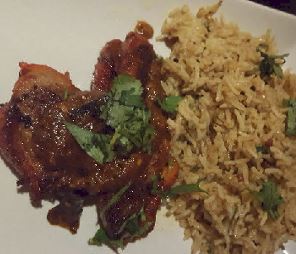 Chicken kolhapuri arrives in an complex sauce of roasted coconut, sesame, and garlic, infused with red chili, clove, cinnamon, and cardamom.
Another litmus test for a quality kitchen is the handling of shellfish, and with Konkan shrimp Pippali once again excelled. The crustaceans were sweet and fresh — evincing judicious selection and cooking — and were presented in a deep red sauce whose color derived from tamarind and degi red chili; roasted spices and coconut finished the dish.
Vegetarian main courses were of subtler character. The dal tadka may have seemed familiar, being home-style yellow lentils, tempered with cumin and garlic, but had a creamier quality than what I'm used to — almost more a korma than a dhal, with a mild, lightly sweet character. Jaipuri kofta were mixed vegetable dumplings rolled in chickpea batter, served with a green cardamom sauce. Palak paneer, featuring Indian cottage cheese cubes in pureed spinach with ginger and tomatoes, was a superior rendition of the dish.
Along with all of these came basmati rice, which arrived light, fluffy, and with a hint of coconut.
There are a decent number of bread varieties, and the naan we had was topped with ample garlic.
In the same way that warm beverages often make a better pairing for hot or spicy foods than cold ones (perhaps counterintuitively), so it is the case with red wines versus whites when it comes to South Asian dishes with spicy sauces. The two we had offered a nice contrast of both a fruitier character — the 2016 Hanging Vine cabernet sauvignon (Lodi, Calif.), which has a nice cherry nose — and the 2013 tempranillo 'El Coto' Crianza from Spain's Rioja region, which was somewhat dry and spicy, with a light aspect of citrus.
The dessert menu is evolving, with a new set of items forthcoming. Though I scarcely had the room for it, we were presented with paneer ras malai. This third different treatment of cheese in our meal, it demonstrated that the dairy product shines best when in a sauce of some kind. Here the cheese is soaked in a reduced milk emulsion, seasoned with saffron, pistachios, almonds and an extract of rose water, the last of these lending the liquid a pinkish hue. The flavors combined in a sweetness more mellow than sugary, and atop this was a sheet of edible silver — a not atypical flourish upon South Asian sweets — called kailash. One cannot say his meal lacked for mineral enrichment after such a finish.
Prices range from $9 to $14 for starters, $15 to $24 for main courses, $3 to $5 for breads.
Pippali, 129 E. 27 Street, 212-689-1999. Open seven days for lunch and dinner. Major credit cards are accepted.