If you're wondering when sushi restaurants became a destination for New Yorkers in search of high-end culinary pleasures, a date to remember is April 15, 1983. It was on that day that Mimi Sheraton's unprecedented four-star review of Hatsuhana appeared in the New York Times. The prices back then — $14 to $18.50 for a complete dinner — were reflective of the pre-inflationary times, but they also signaled the absence of a term that has since been added to the menu of Hatsuhana and countless other restaurants: omakase. The concept embodied in that term (Japanese for "I'll leave it up to you") has exploded on the local dining scene in the past few years, with dedicated omakase restaurants springing up at a furious pace.
One of the latest arrivals is also one of the most promising. Its name is Kōyō, and it opened last month on the spot previously occupied by Gaijin in Astoria. For the new venture, owner Jay Zheng has installed Darry Liu — a veteran of Eleven Madison Park, Shuko, and Ichimura at Uchū — as executive chef. Lofty credentials like those inspire confidence. Be assured, your optimism will be rewarded.
Omakase dining is the perfect solution for the chronically indecisive restaurant-goer. You just sit back and leave the driving to them. Most of the time, at any rate. At Kōyō, you are required to make one decision — whether to go for the sushi omakase, priced at $135, or the more elaborate kaiseki omakase, at $175. Selecting the latter also requires sitting at the sushi bar, the reason for which becomes more evident as your dinner progresses.
Both menus open with a sunomono course, which translates effectively to a dish prepared with vinegar. The purpose of the sunomono is to waken the palate for the myriad flavors to follow. On some nights the sunomono features morsels of Dungeness crab above a hillock of mitsuaki seaweed from Okinawa, the two married by a bracing Japanese vinaigrette. The dish is adorned with sisal flowers: a powerful appetite builder.
Next on the kaiseki menu is a hassun, a dish meant to set the seasonal theme. On a recent visit, the theme was sounded in a trio of delights that included fat slices of impeccably fresh bluefin tuna, a pair of juicy whelk on a bed of coarse salt (think sublime snails), and a sharako tempura perched on a thin slice of lotus root. Sharako is the milt, or sperm sac, of the male cod, which — if you can get past the association — is a wondrous and rarely encountered treat. The version here is at once silky and crunchy.
The caviar course (number 3 on your hit parade) is frequently a four-storied assemblage, the top floor consisting of a dollop of briny Kaluga caviar from China. In between that and the ground floor — a cube of milk toast — are a tartare of bluefin toro and some of the most succulent and deeply flavored uni you'll ever taste. The sushi chef, who compares the dish to bruschetta, advises that you use your hands, not chopsticks, and eat each of the remarkable little constructs in a single bite.
Yakimono is a term reserved for foods that have been grilled, fried, or broiled. Here that role is sometimes filled by slabs of rich roasted Arctic char arranged on a pile of sautéed spinach with ribbons of shishito pepper and grated radish. The fish is garnished by a mound of golden salmon roe that burst into salty ambrosia when they come into contact with your tongue.
It is at this point in the dinner — the soup course — that the kaiseki omakase and sushi omakase join paths again. This course, the suimono, is usually a clear broth, but here it takes the form of chawanmushi. Kōyō does a serviceable rendition of the familiar egg custard, studded with slices of okra and a sliver of shiitake mushroom.
Onward to nigiri, a variable assortment of raw fish, all of it pristine, each morsel crafted by hand as you look on and placed instantly on a pedestal in front of you for immediate consumption. It doesn't get fresher than this. You receive twelve pieces in all in the kaiseki tasting, nine in the suhsi tasting.
One recurring ingredient in this course is monkfish liver, as rich and buttery as foie gras. On some nights the delicacy is teamed with sweet sea bream and garnished with white sesame seeds.
Another regularly featured player is this plump sea scallop from Hokkaido, served "fresh," as the sushi chef puts it, meaning "raw." The delicate morsel is remarkably sweet and succulent, tasting vividly of the sea.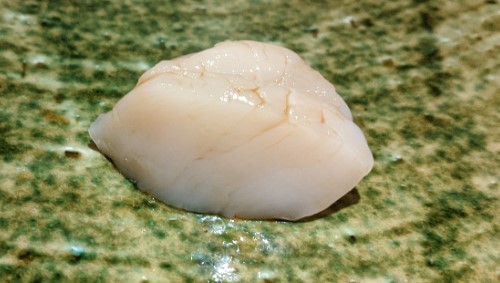 Medium fatty tuna (chūtoro) is treated like prime beef, aged six days under carefully controlled conditions to bring out the essential (there is no other word for it) "beefiness": You'll be glad they sell red wine by the glass. Sea eel arrives moistened by a sauce distilled from long-simmered eel heads and bones.
The penultimate course on both menus is cut maki. On occasion, fatty tuna (otoro) is minced into a tartare along with white onions and bundled in crispy seaweed.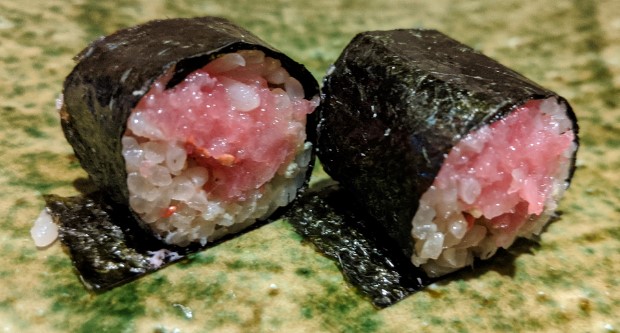 The nightly dessert rotates. On some nights there are homemade mochi filled with persimmon and plated with hazelnut gelato and Hojicha crème. On others you are served chocolate mousse and orange marmalade encased in a dark chocolate shell with sweetened milk-toast bread crumbs. A white chocolate accent rising up from the confection is suggestive of a pair of soaring wings.
The design of the space is simple, with much in the way of natural maple — a nod to the restaurant's name: Kōyō means "autumn foliage," referring to the colors the leaves of the maple tree change to in fall.
Kōyō's prices are markedly lower than those found at Omakase emporia across the river, where you can easily spend $300 a person or more. Considering the overall excellence of the food ad genial demeanor of the staff, expect this place to catch on bigtime once word gets out.
Kōyō, 37-12 31st Avenue, Astoria, 929-328-2890. Open for two nightly seatings, one at 5:30, the other at 8 p.m., Wednesday through Sunday. Closed Monday and Tuesday.