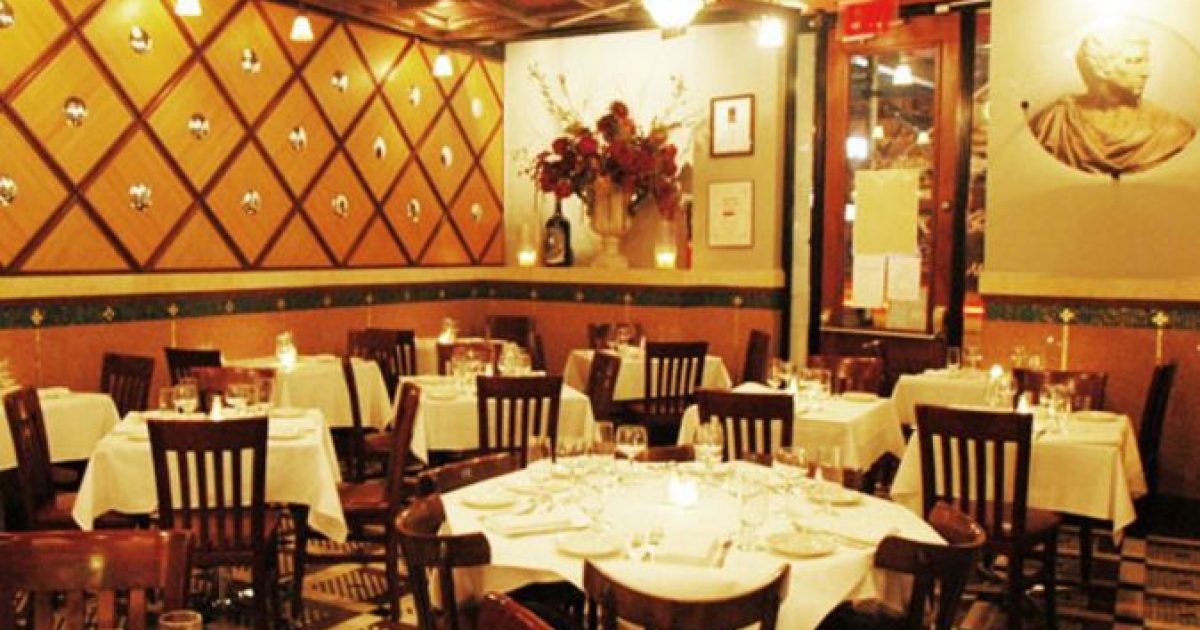 Somewhere filed away in a dimly lit recess of the mind is a jaundiced image of checkered tablecloths and straw-covered Chianti bottles sprouting candles. The 8-track plays a nonstop mix of Sinatra, Dino, and Jerry Vail. There are no emulsions on the menu; no foams, no gastriques. There is pasta e fagiole, served to you in a broad soup plate by one of a corps of waiters who uniformly pronounce it pasta fajool.
In actuality, there may never have been an Italian restaurant that fit precisely that stereotype. But in its day, Grotta Azzurra came close. The restaurant, which opened just after the turn of the twentieth century, remained a Mulberry Street fixture even as a new generation of Italian restaurants offering sleeker and more streamlined fare began cropping up around town. Or at least it did until 1996, when the original owners called it quits, and the restaurant went dark. Then in 2003, new life was infused into the ancient space, and today "the Grotta"—as it was called by its many devotees back in the day—is enjoying a second life.
The layout has changed. The not quite sheer flight of stairs descending from street level has been decommissioned, and the subterranean vault that used to be all of the restaurant is now used primarily for overflow traffic. Still, the Grotta is looking more old-school Italian than ever. The Museum of the City of New York couldn't have done a better job of recapturing the spirit of the original, from the mosaic tiled floors to the stamped-tin ceiling to the gleaming polished bar.
Or to the vintage cocktails that flow from that bar. I am here with spirits expert Examiner Sara Gorelick, who will be covering the cocktail angle in a separate column. My focus will be the food, selected from a menu that reads like a who's who of Italian-American restaurant favorites circa 1960. Prosciutto and melon? It's here. Clams oreganata? They got it. Zuppa di mussels (note the Italienglish), lasagne, saltimbocca—what more could you ask for?
Well, you could ask for spiedino. We did, and were presented with an immesne rectangle comprised of alternating layers of Italian bread and mozzarella. The construct is dipped in beaten egg and deep-fried until the cheese is molten and oozy. It arrives at your table in a zesty sauce of anchovies and capers. The bracing espresso martini Sara recommended that I order as a liquid accompaniment stood its ground against the assertive food. It also played nicely with the aforementioned zuppa—a mountain of mussels and white beans in a balanced sauce that is equal parts tomato, white wine, and shellfish liquor.
Alert readers will have picked up on the fact that portions run large, but nothing described so far could set the stage for the contadina—about a pound each of sausage, chicken, and steak mingled with sautéed onions, peppers, mushrooms, and potatoes. The dish is purportedly designed for two, though it could easily accommodate four hefty appetites. Steak pizzaiola is of less epic proportions but still not for dainty eaters. This is again a good pound or more of prime aged rib eye in a chunky tomato sauce.
They slip out of character slightly at dessert. Cheesecake, as a case in point, is made with cream cheese rather than ricotta—not your father's cheesecake. Cannoli, which come two to an order, are fine, though purists of the confection might balk at the decision to cut the ricotta filling with mascarpone, which adds richness but at the expense of the cheese flavor. Like much else on the menu, an individual lemon tart is size XL. I'd happily trade down to an M or even an S in exchange for a little more finesse in the pastry, a little less sugar in the lemon curd.
The name, which translates to "Blue Grotto," is a reference to the famed sea cave that attracts tourists to Capri's coastline. Before the restaurant's renovation, a crude mosaic of the Grotto graced the wall above the stairway leading down to the front door. It gave the faithful hordes lined up on those stairs something to contemplate during their long wait for a table. You really can't go home again, I suppose.
Grotta Azzurra, 177 Mulberry Street, at Broome St., New York, N.Y., 212-925-8775. Open 7 days forbreakfast, lunch, and dinner. Price range at lunch and dinner: $6 to $14 for appetizers,$13 to $29 for main courses, $8 for desserts. A two-course prix fixe lunch is available for $9.95 on weekdays, $12.95 on weekends. A two-course prix fixe dinner is $19.95. All major credit cards are accepted.