Once upon a time, Polynesian restaurants in New York were recognizable by their thatched roofs and waitresses in grass skirts and leis. They were, if you were unlucky enough to be dragged to one by curious out-of-town guests, adult playgrounds. How ironic, therefore, that an East Village kitchen serious about every plate it sends out should choose to call itself noreetuh: Korean for "playground."
In fairness, there is a playful quality to the restaurant, though it's not realized in flaming pu-pu platters or tropical drinks with silly names and umbrellas served in hollowed-out coconuts. Rather noreetuh's spirit of playfulness is evident when you arrive and discover there is no signage outside. Or enter and notice that the walls are fairly papered with 2-x-3-inch snapshots of — you are informed upon asking — customers.
Or glance at the menu and find there is an entire section devoted to musubi — the quintessential Hawaiian snack, consisting of a nori-wrapped block of rice sandwiching a protein or condiment. In the islands, the favored topping is Spam, a spicy version of which is on the menu at noreetuh.
The playfulness continues into the "small plates," among which you will find a torchon of monkfish liver that you spread atop croûtes fashioned of — you guessed it — King's Hawaiian rolls. The rich meat is rimmed by bonito flakes for accent and flanked by an orderly arrangement of yuzu, persimmon, and cilantro leaves.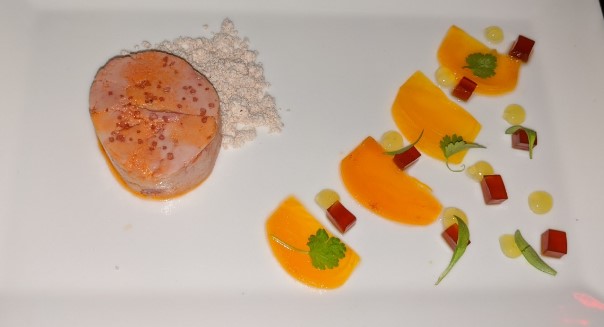 The studied attention to detail discernible in the plate design is something that chef and co-owner Chung Chow likely picked up from Thomas Keller during his stint at Per Se or Jonathan Benno at Lincoln.
It was under the tutelage of those masters that he also may have developed his fascination with pairing improbable ingredients into culinary tours de force. Witness wontons stuffed with shredded ham hock under a blizzard of shaved truffles. Lengths of pickled salsify cut through the richness.
Truffles turn up again as a fragrant adornment in a compelling bone marrow bread pudding. The complexity of the dish is kicked up a few notches by the addition of briny sea urchin.
Shrimp the size of your fist are served heads-on in an intensely garlicky sauce over crisp grilled onigiri, which you use to sop up any remaining sauce. Be advised: The dish delivers a jolt of heat.
A block of steelhead trout is cooked rare and served with a pesto of peanuts and Thai basil. A sprightly dressed Asian herb salad is offered alongside the fish.
If it's meat you want, look no further than grilled imperial Wagyu beef. The impossibly tender, flavorful steak is handsomely crusted around a brightly blushing core. The crisp mochi that serves as a foundation for the beef soaks up a fair amount of the accompanying green peppercorn sauce, enhancing its presence. A scattering of chanterelles completes the dish.
If you enjoyed having bread pudding as a first course, you can double down on your pleasure come dessert. This time the pudding, made with King's Hawaiian Bread, is served warm, its surface dappled with sultanas that have been steeped in rum. A ball of excellent pineapple ice cream makes an essential foil.
Haupia is a traditional coconut milk-based confection commonly served in Hawaii at luaus and other gatherings. At noreetuh the sweet is paired with coconut ice cream, chunks of chocolate, toasted almonds, and shards of conspicuously non-commercial graham cracker in an ice cream sundae.
An ice cream sundae for dessert? You can't get any more playful than that.
A five-course menu de degustation, billed here as a "noeetuh classics menu," is available at $75 per person. Wine pairings will set you back another $50. Ordered à la carte, prices range from $7 to $20 for musubi, $6 to $28 for small plates, $19 to $30 for mains, and $9 and $10 for desserts.
noreetuh, 128 First Avenue (bet. E. 7th St. and St. Marks Place), 646-892-3050, is open seven days for dinner.