In February of this year, an article at Thrillist asked the trenchant question "Can the NYC steakhouse survive?" The author, Dave Infante, acknowledged that the genre remains "one of the city's most venerable cultural institutions." Then he dropped the other shoe, quoting New York Times critic Pete Wells, who had dolefully observed several years earlier that steakhouses "can seem out-of-step with the appetites of modern New Yorkers, who line up to eat blossoms and shoots tweezed into artful disarray."
Despite all the crepe-hanging, the New York steakhouse seems here to stay, judging from the frequency with which new practitioners of the formula continue to proliferate. Lately, however, a trend toward expanding the menu beyond carnivore-centric pleasures has become evident. No, steakhouses have not yet set aside space on their menu for "tweezed blossoms and shoots," but seafood has become more prominent, along with other nods to patrons who would rather not have their steak and eat it, too.
At month-old Tudor City Steakhouse, for example, you will find listings for sushi rolls, ceviche, pasta, and more. The expansion is a natural outgrowth of the skill sets of the triumvirate of chefs here, one of whom learned his craft from Nuevo Latino cuisine inventor Douglas Rodriquez.
The setting strikes a familiar chord. Walls of warm wood and spacious — and generously spaced — tables decked out in snowy linen lend the space a clubby feel.
If you want to honor tradition, start with the crabmeat cocktail. The dish is presented as a small mountain of impressively large and sweet chunks of the crustacean, accompanied by an assertively flavored dipping sauce.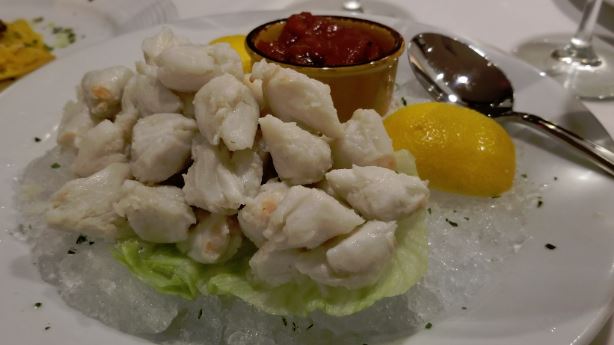 The mixed seafood ceviche, which the menu notes is Peruvian, combines accurately cooked mussels, clams, shrimp, and rings of calamari in a sprightly and acidic huancaina sauce, the entirety stained black by squid ink.
The most humble of the first courses — yellow corn Venezuelan tamale — is also one of the best for locating your appetite. The husk is split open to reveal a warming cornmeal mush. Combine each forkful of the filling with a little of the smoky ratatouille and crema that adorn it and you're in business.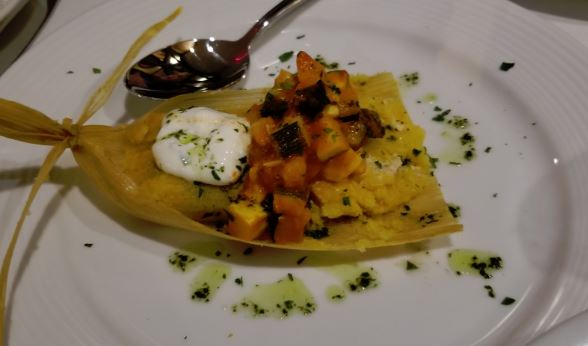 You are perusing the steak listings when your eye chances on the grilled veal porterhouse. Don't pass it up. The meat within the two-inch thick chop is buttery and tender.
So you won't forget you're in a steakhouse, your brook trout arrives butterflied on a sizzling platter, the flesh fresh and delicate. Truffled creamed corn listed among the sides harmonizes nicely with the seafood. There are very good crusty home fries, threaded with onion.
Come dessert and almost everyone orders the chocolate cigar, maybe recalling the candy shop confection of their youth, which was fashioned of 100% artificial chocolate. This version, composed of almond-scented chocolate cake and semi-sweet chocolate mousse, won't revive those memories, but it does make for a nice decadent ending to a steakhouse meal. Just don't try to light the meringue matches served along with it.
No complaints either about the banana cream pie, which will evoke thoughts of childhood. The sweet is delivered in a mason jar along whose bottom you will find a stratum of vanilla wafers (yes, vanilla wafers!). Other layers include silky vanilla bean pudding, fresh bananas, and whipped cream.
Prices range from $14.95 to $21.95 for starters, $21.95 to $49.95 for main courses, $6.95 to $10.95 for sides; all desserts are $11.95.
Tudor City Steakhouse, 45 Tudor City Place, 212-682-4000. Open seven days for dinner, Monday through Friday for lunch. Major credit cards are accepted.