Israeli food in New York has never been hotter. So far this year, three new restaurants owned and run by Israelis have opened in the city, two within three blocks of each other on the Upper West Side.
One of those two, Miriam, which opened on Amsterdam Avenue in late January, is a sister to an eponymous restaurant in Park Slope. Like its older sibling, Miriam hopes to cultivate a following for its all-day Israeli brunch (think two versions of shakshuka, one done with tomatillos and poblanos), served seven days. The restaurant's owner and executive chef, Rafi Hasid, is so proud of his unique round-the-clock brunch that the press release for the restaurant includes the factoid that Miriam has served more than 2.5 million eggs since opening 17 years ago.
But Miriam is also open for dinner, and to give short shrift to the evening menu is to do the restaurant — and yourself — a disservice. A number of the offerings at dinnertime are novel, and considerable attention is given to the juxtaposition of flavors. Orbs of goat cheese crusted in chopped pistachios are set down on grilled slabs of baguette that have first been paved with roasted peppers. The resultant crostini are finished with an unheralded drizzle of honey, which is a nice foil for the tangy cheese while underscoring the sweetness of the peppers. Hummus, served warm under a blizzard of chopped parsley, is topped by a mound of whole chickpeas for textural contrast. The spread is given punch by a healthy addition of tatbelah, a condiment composed of raw chopped garlic and lemon.
All's fair when it comes to the cuisines of the Middle East and especially the countries bordering the Mediterranean. Don't be surprised therefore to find nods to Greece, Turkey, Egypt, and Syria on the menu. While you are waiting for your next dish to arrive, you and your tablemates can debate which of those countries, all of them claiming authorship of the pastry known as kadaif, deserves the credit. At Miriam, the threads of dough, which resemble shredded wheat, are wrapped around four large, sweet shrimp and baked until the crusts are golden and fragrant, the crustaceans cooked through.
A slab of fresh branzino is crisscrossed alternately with stripes from the grill and broad Jackson Pollock-like dribbles of a harissa sauce whose heat has sensibly been dialed back. The fish is served reclining on a creamy puree of celery root and bordered by a patch of grapefruit fennel salad. Thick slices of tender braised short rib imbued with the scent of tamarind are served with a crispy sweet potato latke perched on a small pool of strained yogurt (labneh). The latter, I'm presuming, is a gesture toward the Jewish custom of consuming latkes and sour cream at Hanukkah.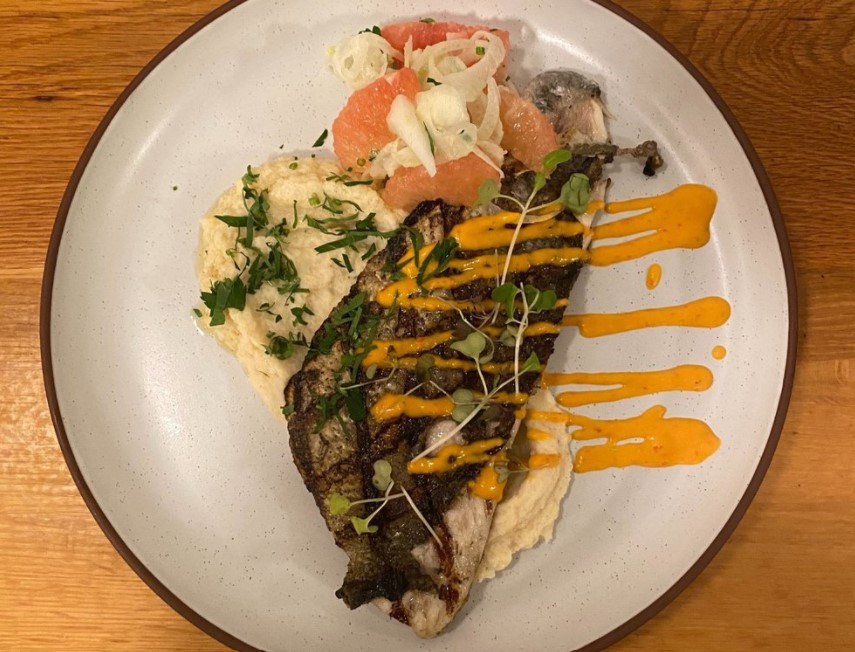 A creamy and rich, yet relatively light, halva mousse adorned with shreds of the candy headlines the dessert list, which also includes a molten chocolate volcano cake, obviously added to appease non-adventuresome palates. Kanafe, a Syrian dessert of ricotta cheese baked under a layer of kadaif, strikes me as an acquired taste, though the melting ball of good pistachio ice cream served atop the dish redeems it some.
Despite its newness, Miriam has already been "discovered" by locals. By 7 o'clock on a weeknight, the dining room is already often full, with a wait for tables in the glass-enclosed, heated sidewalk café. Good food will out.
Price range: $4 to $16 for starters, $12 to $31 for main courses, and $12 for dessert. The prix fixe menu is $95.
Miriam, 300 Amsterdam Avenue (at. 74th St.), 646-590-2659, is open Monday through Wednesday from 10 a.m. to 10 p.m., Thursday and Friday from 10 a.m. to 11 p.m., Saturday from 9 a.m. to 11 p.m., and Sunday from 9 a.m. to 10 p.m.
See also…