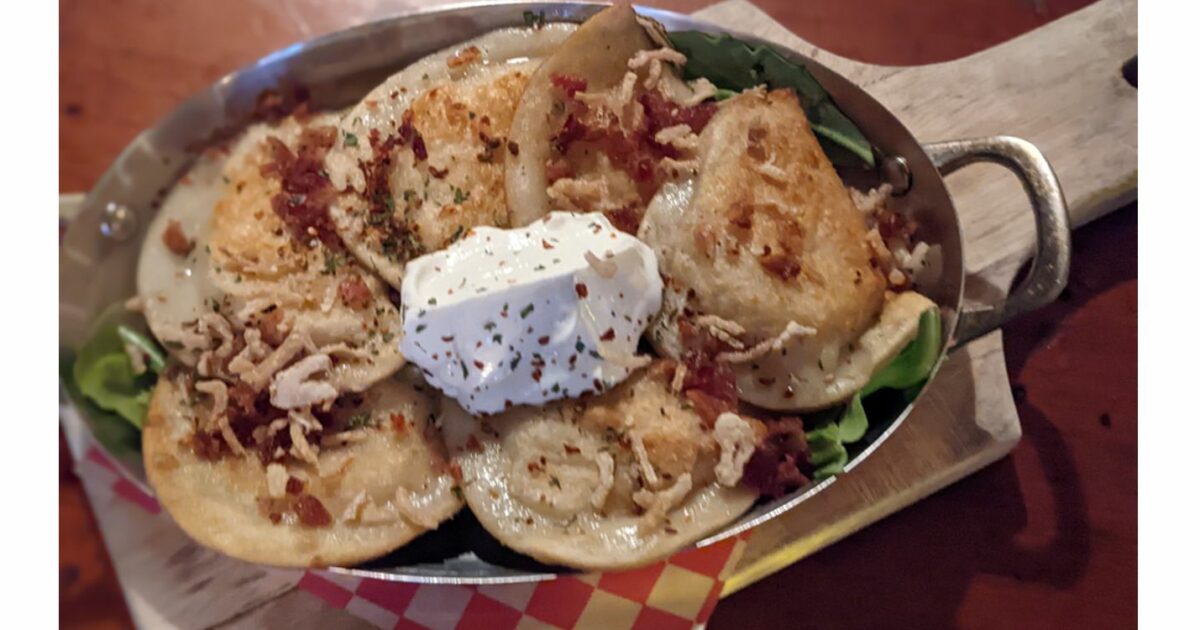 No one can ever accuse Istvan Nagy or Dan Nistorescu of running away from a challenge. The Romanian-born restaurateurs jointly opened their first gastropub, Side Door, at the height of the pandemic — a time when the majority of their rivals were heading for the exits. Their second, M's Tavern, opened last month on the site of Desmond's, an 84-year-old haunt much beloved of entertainers, one of whom told the New York Post at the time of its closing in 2020, "No place could ever replace it. It breaks my heart that Desmond's is gone."
The duo's goal going forward is apparently to mend those broken hearts, first by keeping the old familiar space largely intact and, second, by injecting a hearty helping of gemütlichkeit into the edible offerings in the form of chill-chasing dishes from their native homeland and environs.
Gyulai, aka "Hungarian bratwurst," is strongly seasoned with paprika, a spice you will see much of in the food here. Slender grilled discs of the heavily smoked sausage are pressed into service as the foundational element in a loaded flatbread that also includes slices of crispy potato, the interstices packed with melted gouda — a near pizza, and good for that.
Pierogis stuffed with potato and cheddar are browned in the manner of pot stickers, on one side only. Crisp crumbled bacon is rained over the savory dumplings, which are also garnished with a dollop of thick chive-flecked sour cream.
Chicken paprikash comes glazed with, not buried under, its spirited sauce, which is the right approach, but the bird itself can be a little dry. Good spaetzle help redeem the dish some.
Pörkölt, a sturdy Hungarian beef stew seldom encountered in these parts, is done here with Heritage pork, which makes for a richer dish. You can make it richer still by mixing in the horseradish-accented sour cream spooned over the top. A couple ladles of the fork-tender meat and its dense braising liquid are mounded up over a hillock of creamy polenta.
A dozen beers are available on top, including Big Wave from Hawaiin brewery Kona, and the seasonal German beer Spaten Oktoberfest.
According to legend, Veronica Lake, a film actress of the 1940s, worked as a bartender at Desmond's Tavern back in its (and her) early days. More recently, Stefani Joanne Angelina Germanotta, better known as Lady Gaga, was a regular. So far, neither has been spotted on the premises.
Price range: First courses, including sharables—$9 to $18; main dishes—$16 to $25.
M's Tavern, 433 Park Avenue South (bet. 29 and 30th Sts.), 646-678-3961 is open for lunch and dinner seven days and brunch on weekends.
See also…
Despite Worsening COVID Numbers, Two More Restaurants Open, Offering International Flavor