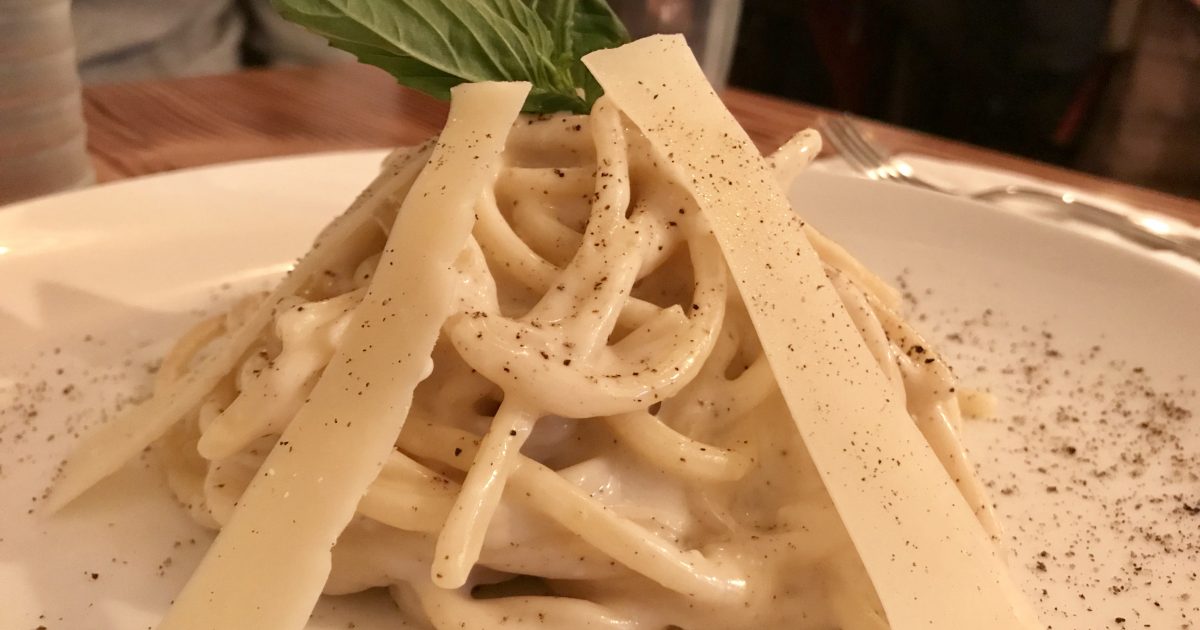 Most storefronts on 14th Street near Third Avenue are fast food joints or quick-service restaurants, making Mani in Pasta an anomaly. In addition to serving slices to go, Mani (whose name is Italian for "hands in the dough") is very much a hands-on operation. Everything is homemade. As one of the co-owners, Pietro Toscano, tells me, "Nothing fresh is served quickly."
My partner and I take a table next to a very large family, who intermittently speaks Italian. They've brought their own wine and seem to be celebrating a joyous occasion.
The kitchen is visible behind the pizza counter, and the aroma of fresh-baked bread is making our mouths water. We are grateful when Pietro returns with a basket of fresh-grilled focaccia.
He also brings a number of suggestions on what to order, and his advice is well-heeded.
Our first courses are a fritto misto and calamari. Fritto misto, which translates literally to "mixed fried, is realized at Mani as variations on the fritter theme. There is one of rice and cheese, another of prosciutto and cheese, another of zucchini and cheese. Biting into each fritter creates a pretty photo-worthy cheese pull, and there's a brisk honey-vinegar dipping sauce to cut the richness.
The fried calamari are crunchy and greaseless, served with a lemon wedge and a buttery lemon dipping sauce.
Cacio e pepe is one of those comfort dishes that you drool over when you come a across a photo of it in the world of Instagram food porn. Consisting of al dente spaghetti, a Pecorino Romano cheese sauce, and a sprinkle of black pepper, it's rich, super creamy, and packs a nice bite. The best part is that it's topped with batons of fresh Peccorino, as if to say, "I somehow don't think you had enough cheese, so here's just a little bit more."
Paccheri Norma was something I wasn't familiar with prior to this visit, but as an eggplant parmesan enthusiast, it was right up my alley. The dish combines rigatoni (again, al dente) and stewed eggplant in a cherry tomato-based sauce. It is finished with a dollop of creamy burrata and a sprinkling of fresh basil. Hard to beat.
Mani serves pizza in rectangular slices, which chef and co-owner Giuseppe Manco tells us are actually called Roman slices. The carbonara pizza is topped with an abundance of salty guanciale, an egg reduction, and of course, cheese. Something called the Mani Pasta slice is liberally adorned with slices of truffle and porcini, along with cheese and prosciutto. The pizza arrive crispy on the bottom and soft in the middle, which Giseuppe tells us is characteristic of Roman slices.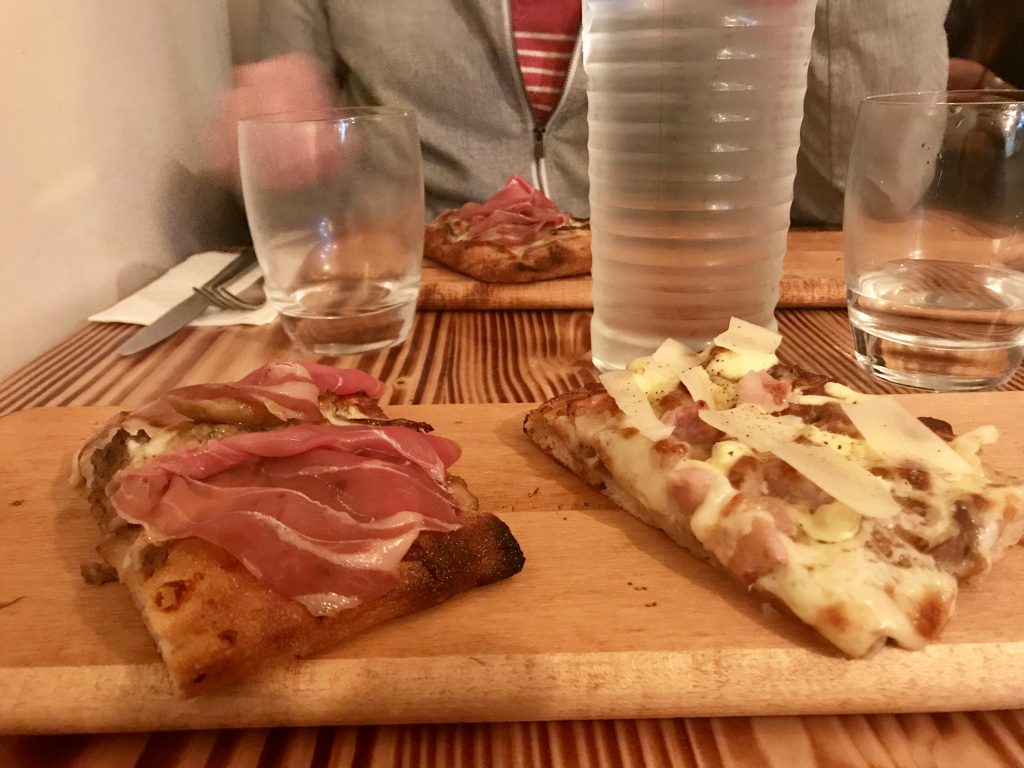 If you're somehow able to find a place to put dessert, Mani has an abbreviated Dolci & Caffe menu, which features many of the sweet Italian essentials from cheesecake to panna cotta to cannoli. It really isn't an Italian feast, however, without espresso, so a nightcap is definitely in order.
Mani in Pasta is just a few blocks from the 14th Street and Third Avenue subway station, served by the L train. Street parking is also available.
Price range: $10 to 14 for starters, $2.75 to $26 for main courses, and $3 to $9 for dessert.
Mani in Pasta, 245 E.14th Street. Open daily for lunch and dinner. All major credit cards accepted. A second location can be found at 14 E. 37th Street (bet Madison and Fifth Aves), 646-870-5851 but lacks seating.