By Merilee Kern
A forecast by PracticalEcommerce indicates that, amid current economic conditions, holiday shopping is poised to happen much earlier this year — well ahead of the usual "Black Friday" and "Cyber Monday" bonanzas in November. That means that if you wait until October to start gift hunting, you may find the shelves bare.
With that in mind, here are a few novel gift ideas for the foodies in your life — especially those with typical (read "small") New York apartment kitchens.
Looking for gifts that hobbyists will love? AeroGarden, a leading kitchen grower with more than 35,000 5-star reviews on Amazon, is a great site to keep in mind for gifts for home cooks and craft cocktail lovers. This hydroponic garden grows everything indoors, from lettuce greens to fresh herbs to hot peppers year-round. AeroGardens come in many different varieties and sizes for any living space. Rather than running to the grocery store at the last minute for expensive bunches of herbs, simply clip greens from the AeroGarden instead. Along with the convenience, there's the fun and interactive experience of watching nature blossom right before your eyes. The AeroGarden Bounty Elite with Seed Bundle is one fantastic option that can grow up to nine plants to maturity. Or, use it to start up to 50 seedlings for transfer to an outdoor garden, as they'll grow five times faster than if started in soil. The unit's powerful 50-watt LED grow lights offer full-spectrum optimal lighting and include advanced settings like dimming and sunrise/sunset schedules. The grower box adjusts for up to 24 inches of grow height — enough for any tall veggie seeds — and the simple control panels make it easy to keep those plant babies thriving. Prices begin at $59.95.
S'mores anyone? Give your favorite foodie the benefits of a campfire right in his or her own apartment with a Colsen Fire Pit. This portable, eco-friendly device is easy to light and extinguish. Unlike traditional fire pits, Colsen specializes in bringing the fun inside for year-round pleasure. They are constructed to work in any environment, so customers can enjoy them outdoors, too. Made from temperature-resistant concrete, Colsen fire pits are crafted with high-quality materials that create a safe, smokeless, and odor-free experience. The modern, portable designs moreover offer an easy way to stage an inviting atmosphere for quiet moments alone or while celebrating with friends and/or loved ones. Use it to make the perfect batch of toasted marshmallows or roasted cocktail franks or to just enjoy 40-plus minutes of cozy fire time. Prices begin at $49.96.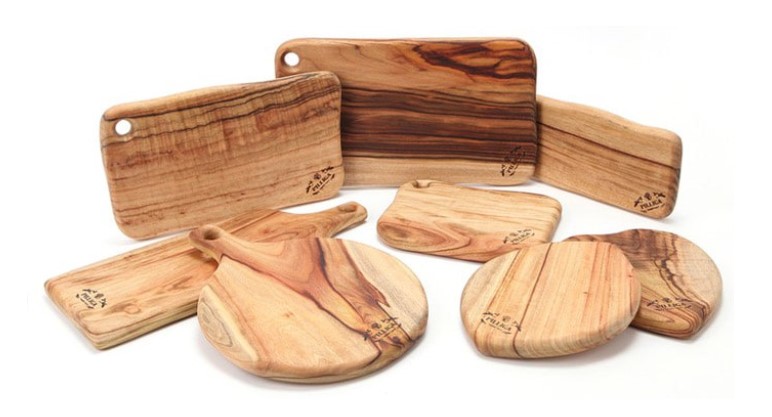 If a good set of knives is a cook's best friend, then a cutting board that won't dull the blades is next best. For the meticulous foodie on your shopping list consider a laurel cutting board from Fab Slabs. Fab Slabs boards are made of one piece of lumber and promise a cutting surface that is durable, environmentally friendly, and naturally antibacterial. In fact, laboratory tests of these boards for the four most common bacteria in food-borne illnesses — E. Coli, Salmonella, Staph, and Listeria — have revealed zero growth after repeated use. Fab Slab boards also make handsome platters for presenting a cheese or charcuterie selection. Finally, the boards repel water and resist warping due to the natural oils found in the camphor laurel tree. Contact the company for pricing information.
Merilee Kern, an internationally acclaimed brand strategist and analyst, is the founder, executive editor, and producer of The Luxe List.
See also…
Great News: Manhattan's Only Vertical Farm Now Selling Direct to Home Cooks