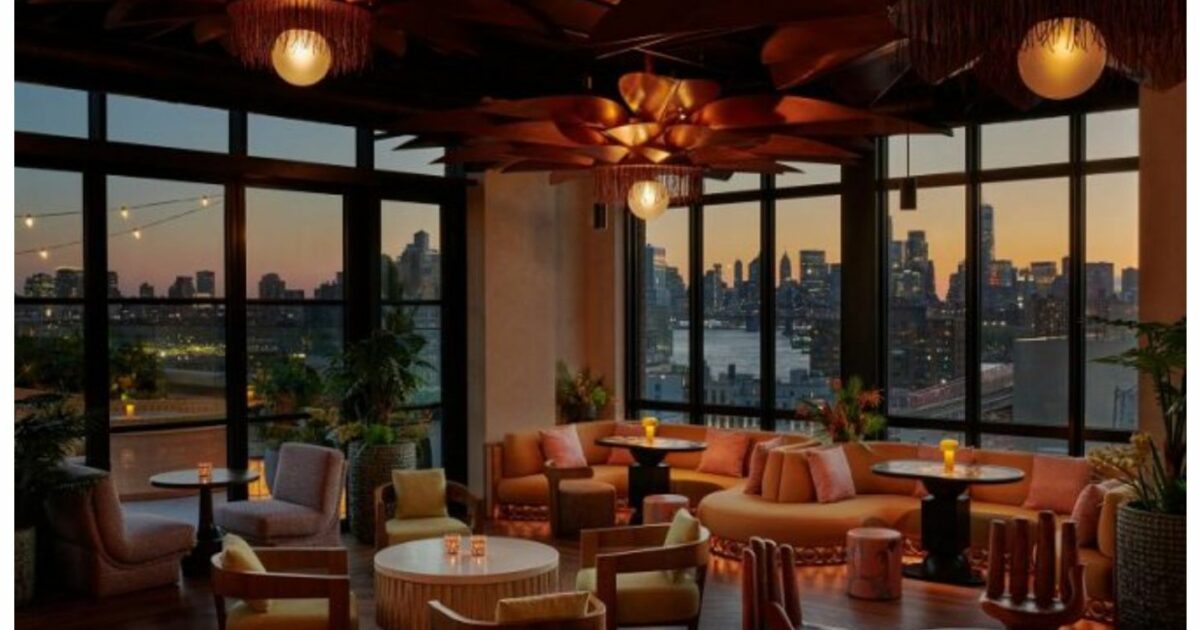 It seems to be an unwritten law of the land that cocktails taste better when consumed against a backdrop of twinkling city lights and nighttime sky. That explanation would certainly explain the longevity of penthouse lounges like Ophelia, on Mitchell Place, which is within hailing distance of the century mark.
Now another exotic aerie has been added to the city's burgeoning cocktail landscape, this one answering to the name of Lillistar and evoking the laid-back lifestyles of Oceania.
Lillistar is the latest venture of Bar Lab Hospitality and, from its perch high above the Moxy Williamsburg Hotel, offers commanding views of the Williamsburg Bridge and the skyline of lower Manhattan. Raise a glass to your surroundings, opting perhaps for the umbu margarita, concocted with Altos Blanco, Lustau Vermut Blanc, strawberry and kiwi oleo, birdseye chile, lime juice, and black salt. The wu wave features lime leaf-infused Ojo de Tigre, St. Germain, blue curaçao, macademia nut orgeat, and citrus, finished with a splash of yuzu-scented soda.
The food menu is given over mostly to shared plates and small bites such as the rendang bao, a dish of braised short ribs that with its 24-hour cook time gives a new definition to low and slow. Ayam goreng, which translates to "Indonesian fried chicken wings," are flavored with chilis, shallots, and ginger.
Lillistar, 353 Bedford Avenue, Brooklyn, 929-489-0150.
See also…