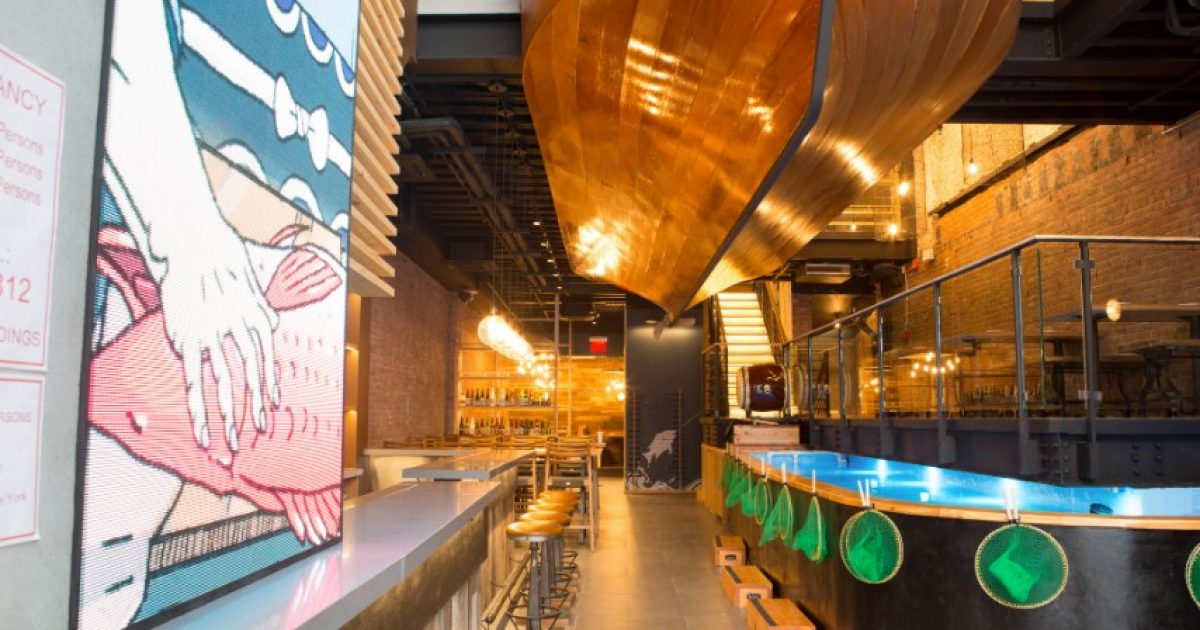 Give a man a fish, and you can feed him for a day. Teach a man to fish, and you and he must be in Chelsea. Zauo, a Japanese restaurant chain that opened its first U.S. outpost in New York in February of 2018, is one out of one restaurant in the city that invites you to fish for your supper.
The restaurant is cavernous, occupying three floors of a space on West 24th Street. Since last June, the third floor has been devoted to omakase dining. But the real action is downstairs. On the first floor you will find a tank populated by rainbow trout, steelhead salmon, and striped bass. The second floor boasts two additional tanks, one for fluke, flounder, and rockfish, the other for lobsters, which swim alone for obvious reasons.
When it comes time to cast your line, you can opt to use bait or to go baitless. Using bait is the more humane way, though if that's not humane enough for you, the house will catch your dinner for you. Either way, you can choose to have your fish prepared in one of three treatments: tempura-style, grilled, or simmered in soy sauce.
The chain got its start in Japan, where there are now 20 locations in addition to the two U.S. links. The website advises that their goal is "not just to entertain, but to educate our customers on appreciating life by catching and eating their own fish."
Fishing at ZAUO, one can truly understand the meaning of life and why we say "Itadakimasu" before every meal in Japan.

"Itadakimasu" does not simply mean "Let's eat!" or "Bon Appetit!" but most importantly, to receive; to accept.

It is a prayer, and a significant part of Japanese etiquette.

The word is derived from the root "Itadaku" which means to teach respect and thanks for all living things around us.
Yeah, I'm not buying it. I'm not a vegetarian or anything, but if I ever get devoured by a grizzly, I can promise you my last thoughts won't be "he's respecting me."
Finally, here's a helpful video.
Zaou, 152 W. 24th Street, 646-905-2274.
See also…