It's been said — elsewhere on this blog in fact — that New Yorkers are restive lot, with an abnormally high craving for what is novel when it comes to dining out. I don't know that you can get any more novel than opening a restaurant dedicated to the snack food pictured above.
In case you don't recognize them (in which case what planet have you been living on?), those are Cheetos. And they are the theme ingredient at The Spotted Cheetah, which will open its doors on Aug. 15 only to close them again two night later.
The menu was developed by Food Network celebrity Anne Burrell and will include dishes like Flamin' Hot Limón Chicken Tacos, Cheetos Crusted Fried Pickles + Creamy Ranch, Cheetos Meatballs (shown below), and Cheetos Mix-ups Crusted Chicken Milanese.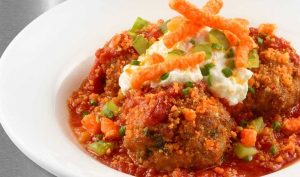 The restaurant will even serve Cheeto-centric desserts: Cheetos Sweetos Crusted Cheesecake, Cheetos Sweetos Sweet and Salty Cookies, and White Cheddar Cheetos and Cheetos Sweetos Apple Crepe.
Burrell explains the genesis of the pop-up thus, according to CBS News:
As a long-time Cheetos fan, I'm thrilled to join forces with a snack brand that is truly an iconic American staple. I had so much fun curating this specially crafted, one-of-a-kind menu for the first Cheetos restaurant — I can't wait to see guests' reactions!
Whatever those reactions are, they will be short-lived because the restaurant turns back into a pumpkin on Aug. 17. Reservations are already full, but curious customers can put their names on the waitlist.
There is word that the recipes for the dishes on the menu will be released on Aug. 15.