Almost everyone in food journalism is in agreement. Masa, the temple of Japanese haute gastronomy in the Time Warner Center, is the priciest restaurant in New York City, if not the world.
At $595 a head before tax and wine (the tip is included), the restaurant is certainly in a class by itself. So in demand is a seat at one of Masa's 26 tables that the house is comfortable assessing its patrons a $200 per-person cancellation fee if they don't provide 48 hours notice that they can't make their reservation — seven days for parties of five and up.
Yet, as mind-boggling as the cost of a dinner is, I'm here to tell you that Masa is not the most expensive restaurant in New York. It's not even close.
So what is? An unassuming glorified coffee shop called Serendipity 3. The menu reads like that of a casual food restaurant — which is precisely what Serendipity is. There is chicken pot pie, meat loaf, burgers, and a few slightly more ambitious dishes.
Prices are pretty much what you would expect for a restaurant of this ilk — except for one. And that's the price tag worn by the Golden Opulence Sundae, which sells for $1,000  and requires 48 hours advance notice. That's $405 more than dinner at Masa — and it's for a single course!
The confection, which is in the Guinness Book of World Records, is concocted using the finest Tahitian vanilla ice cream infused with Madagascar vanilla for good measure. It is then drizzled with the world's most expensive chocolate, Amedei Porcelana, and topped with hunks of the rarest Venezuelan Chuao chocolate. All is wrapped in edible gold leaf.
They're not finished: The sundae is adorned with gold-coated almonds from Paris that sell for $100 per pound, a small glass ramekin of sweet Grand Passion Caviar infused with passion fruit, orange, and Armagnac, and a gilded sugar flower that takes eight hours to create.
There's more. The dish is presented in a $300 Baccarat Harcourt crystal goblet, which the customer may keep as a souvenir, and the plate on which the goblet rests is strewn with chocolate truffles and marzipan cherries.
Talk about gilding the lily.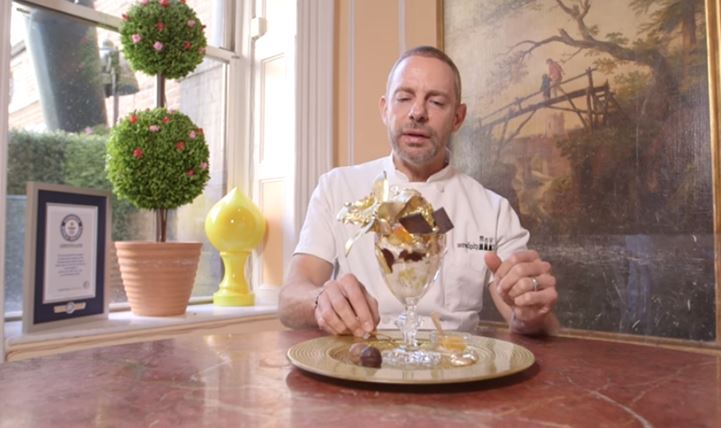 Remarkably, the restaurant manages to sell around 50 Golden Opulence Sundaes a year.
Even more remarkable is that at one time Serendipity 3 offered a sundae with a price tag of $25,000. You could buy more than 40 dinners at Masa for that amount.
Then again Serendipity is all about the records. At one time the restaurant served what it billed as the world's most expensive grilled cheese sandwich. The price was a comparatively measly $214.