"The Most Expensive Restaurant in New York Is Not Masa" teased the headline of a 2017 article, which revealed that that honor actually belongs to a casual food restaurant named Serendipity 3. To drop $1,000 there, our own Howard Portnoy reported, you don't even need to order a meal provided you opt for the Golden Opulence Sundae, which, in addition to a bundle of greenbacks, requires 48 hours advance notice.
The confection, which is in the Guinness Book of World Records, is concocted using the finest Tahitian vanilla ice cream infused with Madagascar vanilla for good measure. It is then drizzled with the world's most expensive chocolate, Amedei Porcelana, and topped with hunks of the rarest Venezuelan Chuao chocolate. All is wrapped in edible gold leaf.
Now Serendipity Brands, in partnership with the restaurant, has released a retail line of super-premium ice creams, including sundae cups and ice cream cakes, for you enjoy its chilly confections at home.
You won't find golf leaf among the ingredients but you will find unique flavors like Frrrozen Hot Chocolate — cocoa-flavored ice cream beneath a creamy layer of marshmallow and chocolate shavings (which any good cup of hot chocolate deserves).
The Salted Caramel cups feature a top layer of rich, gooey caramel sauce, while Cookie Dough is generously studded with sweet morsels of the aforementioned dough. Birthday Cake, crowned with swirls of pink frosting, rainbow sprinkles, and chunks of cake, is another fun option that — like the Frrrozen Hot Chocolate — is available as an 8-inch cake.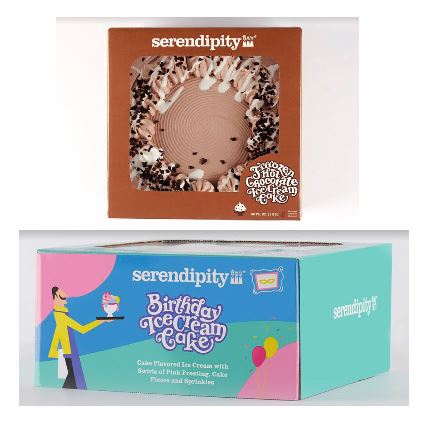 The treats won't set you back $1,000. The suggested retail prices of the cups is $2.99 ice cream cups, and the cakes go for $24.99.
Serendipity's ice cream products are sold online at Gopuff and in the metropolitan area at 7-Eleven, Walgreens, Duane Reade, and Morton Williams.
See also…