Imagine showing up for your reservation at a restaurant only to be told by the host that it has been canceled. Such has become a sobering reality for patrons of A Moveable Feast, a catering company and part-time restaurant in Carmel Valley, Calif., whose chef, Michael Jones, has introduced cancel culture to the world of restaurants. He has taken to googling names on the reservations list and decreeing "no soup" for those with a history of leaving negative reviews or being rude to restaurant workers.
The controversial practice went public after the following tweet was posted in March by Adam Reiner of The Restaurant Manifesto:
Among the the responses was one by Jones himself, who confirmed his habit: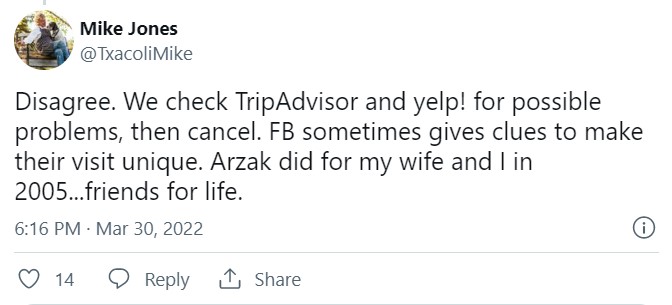 Jones's behavior is just the latest in a series of aggressive actions toward customers that have spanned his five decades behind a stove.
Arguably the habit of blacklisting diners is among the more benign of his tactics. As Edible Monterey Bay reports, at his previous restaurant, Cachagua General Store, he smashed a customer's dinner plate with a huge halibut backbone after the man questioned the sourcing of his fish. On another occasion, he sprayed a guest with a fire extinguisher for refusing to stub out the cigar he was smoking.
"You're coming into my home," Jones says by way of rationalizing his behavior. "I gotta take care of you. I will do the best I can, but you are in my home. Don't yell at my people or make weird demands."
Michael Jones isn't the only restaurateur to google prospective customers. As I noted previously in this space, no less prestigious a restaurant than Eleven Madison Park attempts to learn something about its clients before their arrival. But the motivation behind its "spying" is to make diners feel special — by, for example, addressing them by name.
Jones, in contrast, is "taking names."
Consider yourself warned.
See also…