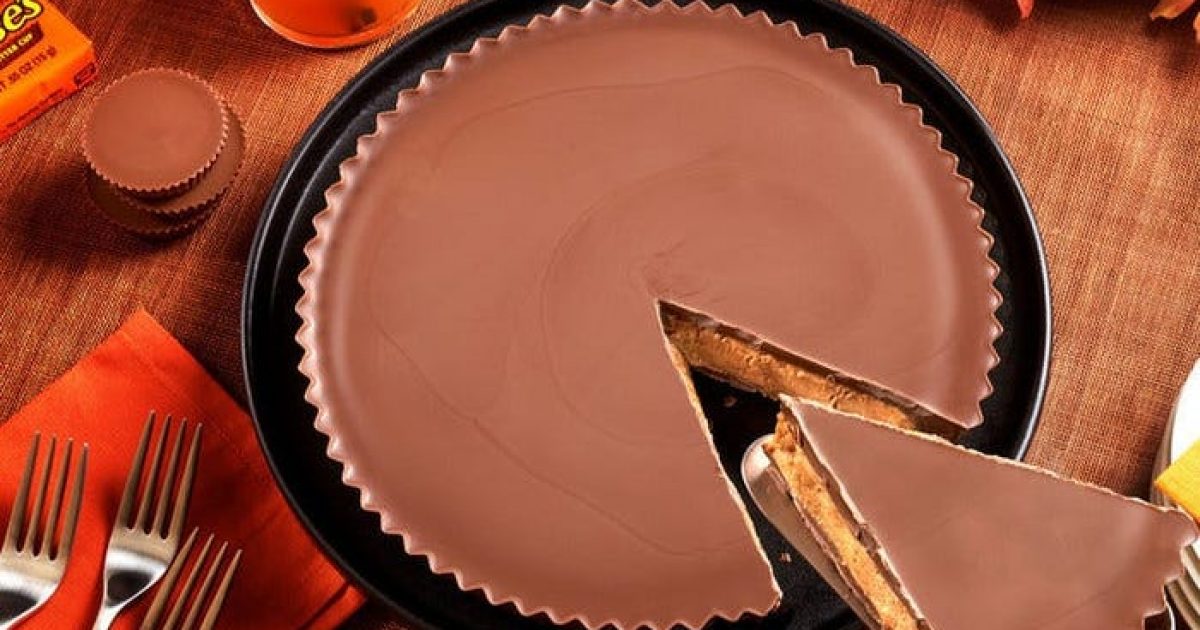 Yesterday, we wrote about a holiday food-related attraction — a KFC chicken bucket "sweater" — that at press time was no longer available. We received a number of angry emails from readers asking why we were telling them about an offer that had expired. Presumably today's post will generate a similar reaction.
The story centers on a Reese's Peanut Butter Cup approximately the size of a pie. (The diameter is 9 inches and weighs 3.25 pounds.) Hershey's inexplicably did a run of 3,000 of the holiday confections, which were snapped up in the first hour after going on sale.
Hershey's shortsightedness in doing such a tiny production run is clearly to blame for the bad news. But take heart. There is also some good news. Namely, we are here to tell you how to make a Reese's pie that tastes very similar to the candy. It features a chocolate cookie crust, which prevents the desert from becoming cloying. (Trust us: The finished product will be plenty rich enough.)
The recipe calls for Hershey's milk chocolate. In our opinion, there are better-tasting chocolates, but if you want the finished product to taste like a Reese's Peanut Butter Cup, this is the only way to go.
REESE'S PEANUT BUTTER CUP PIE
Ingredients
1/4 cup unsalted butter
8 oz. Hershey's milk chocolate, divided
1 package Nabisco Famous Chocolate Wafers (you can also use chocolate snaps, but these work best)
1 cup smooth peanut butter
8 ounces of softened cream cheese
1 cup granulated sugar
2 tsp vanilla extract
1-1/2 cups heavy cream, divided
Directions
Add the butter and four ounces of Hershey's milk chocolate to a bowl set over simmering water. Heat over low flame, stirring often, until melted. Set aside to cool.
In the meantime, place the cookies in a blender or food processor, and blend for about ten seconds. Add the crumbs to cooled chocolate-and-butter mixture and stir till combined.
Using a flat-bottomed measuring cup, press the chocolate dough into the bottom and up the sides of a 10-inch tart pan with a removable bottom. Set aside.
Add the peanut butter, cream cheese, sugar, and vanilla extract to a large bowl and beat on medium speed until blended. In another large bowl, whip the cream until stiff peaks form.
Fold the whipped cream to the peanut butter mixture in as few strokes as possible, to keep the filling light. Spoon the filling into the crust, smoothing the surface. Refrigerate, uncovered, for at least 1 hour.
Break up the remaining 4 ounces of chocolate and add along with remaining half cup of cream to bowl set over simmering water. Stir till melted and combined.
Using an off-set spatula, spread the resulting ganache over the chilled peanut butter filling, and refrigerate for 3 more hours.
Before serving, bring the pie to room temperature and release from the tart pan by pressing upward on the bottom.
Yield: 10 servings
See also…
In Time for Christmas KFC Releases Finger Lickin' Chicken Mitten Bucket Hugger