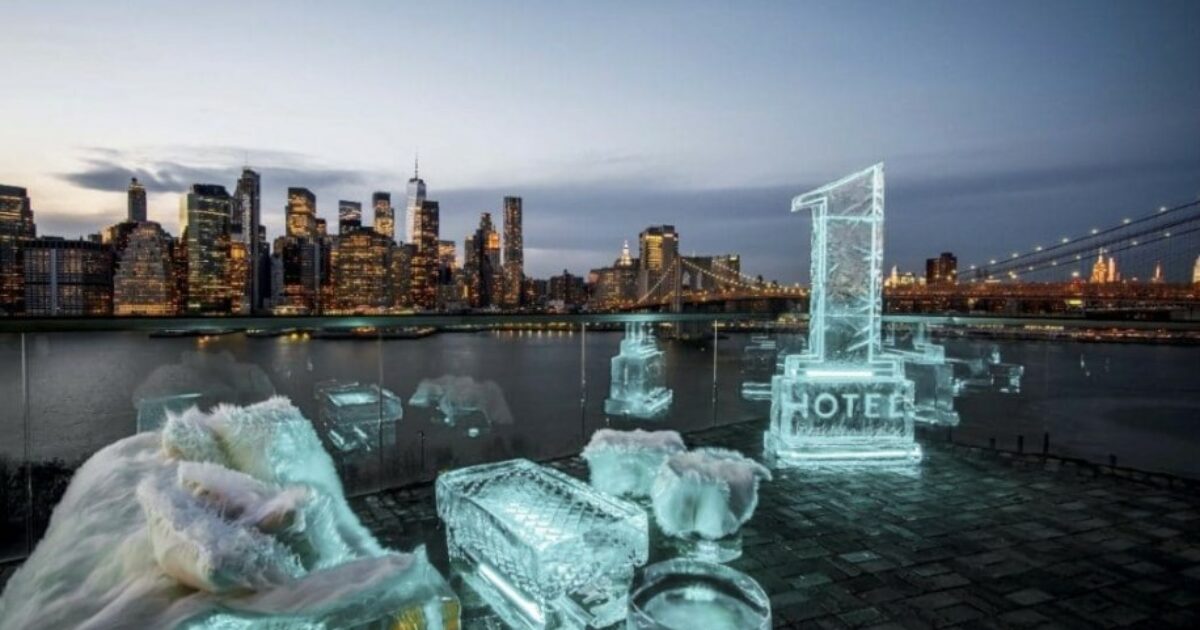 It's not quite the Polar Bear Club, but that's only a matter of degrees. Even the name — Polar Lounge — evokes an image of people freezing their assets off. The bar, which will be popping up at Harriet's Rooftop at 1 Hotel Brooklyn Bridge beginning Jan. 12 — is not for the faint-hearted. Everything, from the custom seating and tables to the glass holding your old-fashioned, will be made of ice.
Not to worry, though. As Secret NYC notes, the Lounge has partnered with luxury outerwear brand Moose Knuckles to lend out cozy parkas to customers to keep them toasty for the duration of their visit.
The cost of admission, which is $50, includes a complimentary cocktail courtesy of Maestro Dobel Tequila. Note that a percentage of sales will go to Oceanic Global, an international NGO dedicated to safeguarding our oceans and polar regions.
The Lounge will be open from 5 p.m. to 10 p.m. every Sunday, Thursday, Friday, and Saturday until further notice. Polar Lounge at Harriet's Rooftop at at 1 Hotel Brooklyn Bridge, 60 Furman Street, Brooklyn, 347-696-2505.
Bye to Baby Bo's
Baby Bo's Cantina, a colorful restaurant and bar that has been a Murray Hill fixture at the same Second Avenue storefront for the last 34 years, quietly closed its doors for the last time on Oct. 31 of last year. No reason was given for the closure, though it can't be argued the eatery didn't have a good run.